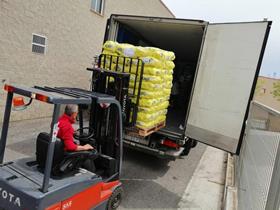 Mercabarna says an app it developed with T-Systems to facilitate food deliveries to charities has already distributed 12,000kg of surplus food to the Red Cross in the 10 days since its launch.
Currently there are four companies participating in the project on a voluntary basis: three wholesale companies and one dedicated to the transport and logistics of food.
In the 10 days between 14 and 24 April, the main products donated were oranges, bananas, apples, watermelons, strawberries, potatoes, onions, tomatoes and artichokes, Mercabarna said.
Describing the results as "very positive", Mercabarna said the app currently allows for more than 30,000kg of food to be distributed to the Red Cross each month.
"Once the app is up and running smoothly we'll invite other food companies and charities to sign up," the wholesale market's managers said.
In order to streamline the process of delivering food to the most vulnerable groups, which have increased significantly with the current health crisis, Mercabarna and T-Systems organized, for 24 hours and in an altruistic way, a meeting of programmers and members of the wholesale market direction. The T-Mercabarna Solidaria application was born from this initiative, which allows connecting food distribution companies with social entities, thus simplifying the entire process.
In order to develop the app, T-Systems and Mercabarna organised a 24-hour hackathon (meeting of programmers whose objective is the collaborative development of software). They were tasked with coming up with a fully operational application allowing the optimal distribution of fresh food to needy groups.
Due to their shorter shelf life, fresh products are much more difficult to manage and require faster, more complex distribution. With the new app, food companies provide information on the products they can donate before 10am. The app then connects with the charity and transport company so that food can be delivered before 5pm on the same day.