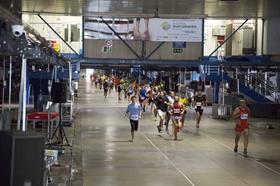 More than 3,000 people took part in the inaugural Mercabarna Race at Barcelona's wholesale market on Sunday. The family event, which combined a range of activities based around healthy food, sports and games, was designed to raise the profile of the market among the city's citizens.
The day kicked off with a 5km and 10km race, taking runners through Mercabarna's fruit and vegetables and fish markets to give them idea of how they function on a typical day. The route also passed through the market's Complementary Activities Zone which houses companies involved in the preparation and processing of fresh products, as well as specialised service providers.
After the race, a breakfast of fresh fish, meat and fruit was held for runners and their families, who were also given a bag of fresh produce donated by some of the companies in the market.
Described by the market authority as a "city within a city", Mercabarna is one of Europe's biggest wholesale markets, housing more than 700 companies specialising in the production, distribution, import and export of fruits, vegetables, fish, meat, flowers and plants and employing around 7,000 people. Each year it handles more than 2m tonnes of these products.
"The market operates for 24 hours a day to ensure that the freshest products reach the inhabitants of Barcelona and the surrounding area," Mercabarna said in a press release.