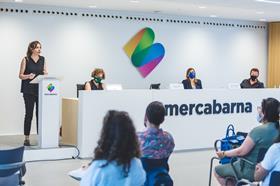 Food industry professionals, researchers and teachers are meeting this week to discuss the key trends and challenges facing the agri-food sector as part of the Summer University organised by Barcelona wholesale market Mercabarna.
During the first day, speakers discussed the necessity for improved coordination and collaboration from every part of the food chain, with the support of the state and society, in order to achieve a more sustainable food system.
Mercabarna's president and councillor for commerce, markets, consumption, internal regime and finance, Montserrat Ballarín, highlighted the vital role the market plays in Catalonia's agri-food system and recalled that Barcelona is the World Capital of Sustainable Food for 2021.
Gloria Cugat, deputy director general of the Inspection and Agri-Food Control of the Department of Climate Action, Food and Rural Agenda (DACC) of the Generalitat of Catalonia, spoke about the introduction of new legislation to cut food waste, noting that this was a "pioneering law because it includes the entire food chain, from primary production to restaurants, and also because it prioritises the prevention of food waste at source, rather than the redistribution of surpluses".
Félix Morató, director of the UNESCO sustainability chair, and Alex Godoy, an expert in Food Security at FAO spoke about the need for shorter, more local supply chains to tackle the challenges on global food supply in light of the growing population, as well as the need to make citizens more aware of the benefits of consuming seasonal and local produce.
Other topics discussed during the first day of the event included opportunities and challenges in the post-Covid-19 era, guaranteeing food supply in an emergency situation, and the steps being taken by Mercabarna to tackle food waste.