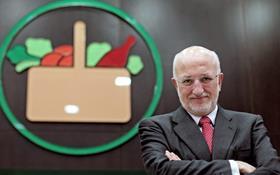 Juan Roig, president of Spain's largest supermarket, Mercadona, is to donate his multi-million euro salary to the fight against coronavirus.
He announced that he will contribute this year's salary and dividends, worth an estimated €70m, to social projects to reinvigorate the Valencian and Spanish economy that has been decimated by the pandemic.
Roig and his wife, Hortensia Herrero, are long time patrons of a number of charitable causes. In 2019 they contributed around €50m through the Legacy Project to various initiatives spanning entrepreneurship, training, sport, entertainment, art and culture.
The Mercadona president received a salary of €9.7m this year (€4.6m after tax) as well as dividends of €65m.
Roig, who was once quoted as saying: "True success stems from the generosity of sharing and putting at the service of others the knowledge and resources that each one of us has", recently paid Mercadona's 90,000 employees a €44m premium for their work during the Covid-19 crisis.
The company saw its profits slashed by 95 per cent in March in spite of seeing a 14 per cent rise in sales due to the cost of safety measures to protect its workers during the pandemic.