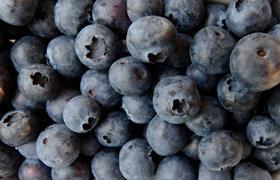 Mexican blueberry production reached 50,293 tonnes in 2020, 2.6 per cent more than in 2019 according to the Ministry of Agriculture.
The figures show a marked slowdown in the rate of growth compared to previous years. Between 2015 and 2016, volumes almost doubled from 15,000 tonnes to 29,000 tonnes, In 2017 output totalled 37,000 tonnes, climbing to 40,000 tonnes in 2018 and 49,000 tonnes in 2019.
Around 4,700ha were planted with blueberries last year in total. The state of Jalisco led the way with a production volume of 23,169 tonnes worth MXN$869m.
A total of US$399m of blueberries were exported in 2020, of which 95.9 per cent were sent to the US and the remainder to a further 34 countries.