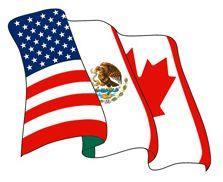 Mexico has reportedly offered Uruguay access to the Nafta (North American Free Trade Agreement) trade bloc.
The North American nation already enjoys trade agreements with Uruguay as well as Canada and the US.

If successful, Uruguayan companies would be able to export duty free to the US and Canada.

Mexico's ambassador to Uruguay, Cassio Luiselli, has initiated talks with his Nafta counterparts.

The issue is also being studied by Uruguayan President Tabaré Vázquez and the Uruguayan Foreign Ministry.