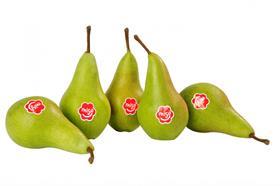 Belgian auction BelOrta plans to visit seven Belgian hospitals over two days with its Migo pear food truck this month, in order to treat healthcare workers to a "tasty and well-deserved break".
"During this difficult period, BelOrta wanted to thank the healthcare staff for the unbridled efforts of the past year," the cooperative stated. "With a food truck packed with Migo pears, BelOrta visits seven Belgian hospitals for two days to give everyone not only a heart, but also a pear. That way, more than 20,500 pears will provide a well-deserved break."
Every November, BelOrta supports such an action with Migo, known as "the friendly pear", and in a year dominated by the Covid-19 crisis, the cooperative elected to support healthcare personnel.
"The achievements of the healthcare sector are admirable," said Laurent De Smedt, divisional head of fruit sales at BelOrta. 'With this small gesture, we want to put a smile on the faces of the care staff and thank them for everything they have accomplished in the past year.'