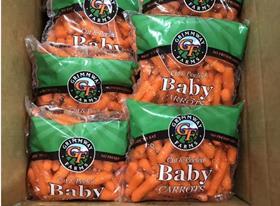 More Chinese consumers will be introduced to mini carrots through a new partnership between Chinese brand Mr Avocado and US grower-distributor Grimmway Farms.
Mr Avocado has integrated the mini carrots into retailer Pagoda stores in Eastern-China after launching the product in July and the company plans to list the product in more retail channels in the future.
The mini carrots are about 5cm long and ready to eat, they will be sold portable 85g and 340g bags aimed at both personal and family purchases.
Mr Avocado said while mini carrots have had success in the US domestic market, Chinese consumers were not as aware of the product.
At present, the annual sales of mini fruit and carrot in the US domestic market is close to US$20bn and is growing at an annual rate of 5.1 per cent.
According to Mr Avocado the consumption trends of Chinese consumers have become more and more mature, with the focus on health getting stronger.
It hopes the addition of this product to the market will help move mini carrots from the niche to the mainstream and help bring the concept of healthy snack to China.