Finest for the Future highlights Mission's commitment to sustainability and to cultivating a better future for generations to come
Mission Produce has published its 2021 Environmental, Social and Governance (ESG) report, Finest for the Future, setting out the progress it made on its ESG actions, goals and initiatives over the past year.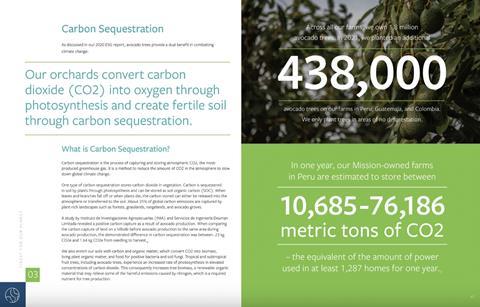 "At Mission, we recognise our responsibility to treat our land, resources and people with respect as we work toward the goal of cultivating a better future for generations to come," said founder and CEO Steve Barnard.
"I'm proud to share our progress over the last year as we remain committed to transparency with our stakeholders, customers and consumers."
The report highlights advances in several areas, including food waste, diversity, equity and inclusion, emissions and plastic reduction.
On the subject of food waste, company applied shelf-life extension technology to more than 34m lbs of avocados, beating its waste reduction goal by 55 per cent.
Last years also saw Mission sponsor the produce industry's first-ever DE&I initiative in partnership with the Produce Marketing Association's Center for Growing Talent.
With regard to emissions, Mission decreased rubbish sent to landfills by 19 per cent and increased recycling by 33 per cent compared to 2020.
On plastic reduction, Mission introduced bags with finer netting and thinner film without sacrificing quality and performance, reaching more than one-third of its plastic reduction goal to decrease plastic in 50 per cent of the bags packed and shipped globally by 2025.
And in terms of community investment, the company said it is on track to increase its charitable giving by 50 per cent by the end of 2022.
"As a global leader in precision farming practices, Mission uses less to grow more," said Delanie Beeson, global science and sustainability manager.
"From field to fork, we strive to provide a high-quality product to our customers without sacrificing our commitment to sustainability. The health and safety of our people, our product and our planet will continue to be a guiding force in the future of our business."
Mission's sustainability topics for reporting were informed by the Sustainability Accounting Standards Board (SASB) index framework to provide stakeholders with standardised metrics showing the comprehensive impact of its ESG activities.
Other topics covered in the report include product quality, health and safety, water management, carbon sequestration, waste reduction, emissions and governance.
The 2021 Finest for the Future ESG Report is available to view and download at https://issuu.com/missionavocados/docs/mis-esg-report.