Overall throughput for January-September rises although container volumes fell 8.8 per cent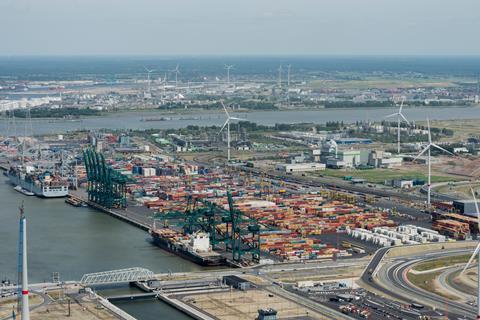 The Port of Antwerp-Bruges has said that throughput came to 217.4m tonnes during the first nine months of the year, a slight increase of 0.8 per cent compared with the same period of 2021.
"Despite the negative impact of the geopolitical and macroeconomic context, all cargo flows are recording growth, with the exception of the container segment, which remains under pressure," the port stated.
"Together with a series of announcements of new investments in the port platforms of Antwerp and Zeebrugge, this confirms the attractiveness and resilience of the unified port."
Container throughput fell 8.8 per cent in tonnage and 5 per cent in TEUs compared with the same period last year.
The port said that the decline was the result of the ongoing disruption of container logistics and the effects of the conflict in Ukraine.
"Containers are still not rotating sufficiently due to congestion and this is resulting in the throughput of full containers falling, while that of empty containers is rising," it noted. "Although operational challenges are slowly diminishing, the still heavily disrupted container liner shipping is not forecast to return to normal until the first quarter of 2023."
Jacques Vandermeiren, CEO Port of Antwerp-Bruges, said that despite the ongoing challenges due to the current geopolitical and macroeconomic context, the port was unified.
"The negative trend in the container segment, rectified by growth in the other segments, is likely to continue towards the end of the year," he said. "But the flood of substantial, forward-looking and sustainable investments and new projects, especially in a climate of closures and production cuts due to high energy prices, is a confirmation of our strong position and attractiveness as a world port."