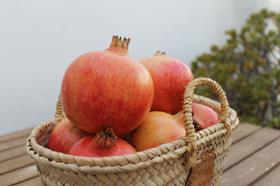 Mollar de Elche pomegranates moved a step closer to obtaining their own geographical designation this week after the Official Journal of the European Union published a document setting out the specifications for a Protected Denomination of Origin (PDO) for 'Granada Mollar de Elche/Granada de Elche'.
The variety is known for its exceptional sweetness, soft edible seeds and external colour which ranges from cream to deep red.
Franciso Oliva, president of the Association of Producers and Marketers of Pomegranates from Elche, hailed it as "an historic event for Elche, for the people living in the geographical zone set out by the PDO and above all for producers and all those that make up the agricultural sector".
"Now we can proudly say that we elevated the value of this product, and that thanks to the hard work carried out by the association, we have succeeded in protecting this variety, guaranteeing its future and boosting its profile in international markets," Oliva said.
Around 90 per cent of Spain's Mollar production is centred around Elche and the surrounding áreas incoporated in the DOP (Baix Vinalopó, L'Alacantí and Vega Baja).
In total there are some 3,000ha of orchards producing around 50,000 tonnes of the fruit a year. The season runs from October to February.