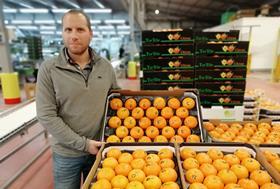 Israel has seen a 15-20 per cent increase in shipments of Orri mandarins to the UK in compared with the same period last year, according to one exporter.
Describing the market as "very dynamic", Ariel Shalov, vice president and chief innovation officer of UMS Industry & Food, said Israel's agri-food sector is working hard to solve the logistical and labour challenges thrown up by the coronavirus pandemic in order to keep customers well supplied.
With an annual turnover of €22m, UMS Industry & Food produces and exports a range of Israeli fruit and vegetables to the international market.
Its sales have been growing by 5-10 per cent annually over the last Avocados are the company's fastest growing line, with production set to triple from the current 3,000 tonnes within five years.
"We're also ramping up production of pomegranates and citrus from the current 1,000 tonnes and 3,000 tonnes respectively, while our mango volume remains stable at 1,500 tonnes and our carrot and potato volume have fallen slightly to 15,000 and 30,000 tonnes," Shalov said.