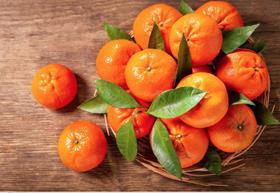 Severe drought conditions are contributing to a major decline in Californian citrus production for 2021/22, according to the latest estimates, with mandarin supplies expected to be as much as 50 per cent down on last season. Since Moroccan Nadorcott volumes are anticipated to grow by around 20-30 per cent, Moroccan exporters are therefore seeing increased interest from US customers.
'The rise in Moroccan production is really good news,' says Fatiha Charrat, commercial and marketing director at Casablanca-based Delassus Group. 'Exporters will be able to sell greater volumes in North America and cover the Californian deficit. Delassus will be working in partnership with the Halos brand for Wonderful Citrus.'
In mid-October, Moroccan growers commenced harvesting on early easy peeler varieties like Bruno, Orogrande and Esbal.
'As always, these are for North America and Russia,' clarifies Charrat. 'Exporters won't start supplying the UK market until early November when the clementines get their natural colour and there is almost no need for degreening. Nules is the main variety.'
Aside from the expected increase in Nadorcott, Moroccan volumes are stable in all other easy peeler varieties, Charrat reveals, with both Europe and the UK remaining key markets.
'The UK in particular is a well-established trading partner,' she adds. 'This season, Delassus Group will offer Leanri to its UK customers exclusively. It will be ready at the end of November and can be offered over the Christmas period. This mandarin has a special flavour and a high juice content and is seedless, as the whole farm is protected by nets to prevent cross-pollination.'
The biggest challenge this year, according to Charrat, will be coping with an increase in logistical and packaging costs.
'The cost of shipping a container of goods from Morocco to the UK has risen to near record highs,' she notes, 'while fierce competition for ocean freight capacity is the new normal. With new capacity only slowlycoming onstream,freight rates are expected to continue to reach new highs this year and will remain above pre-pandemic levels in the longer term.'
Charrat identifies various supply chain issues that have built up since the start of the pandemic, including imbalances in production and demand, differences in timings and lengths of lockdowns across the world, cuts to shipping capacity on major routes, and shortages of empty containers.
'As the recovery has progressed, global demand has recovered strongly,' says Charrat. 'Competition for ocean freight capacity is intensifying as economies open up further and inventories are rebuilt across the various links in the supply chain.'
Fortunately in Morocco, she says, most of the large exporters have signed seasonal deals with Moroccan logistics specialist Maroc Fruit Board (MFB) to lock in container freight rates, with an average increase of £700 per container to the UK. MFB insured deliveries door-to-door to cope with a lack of inland transport in the UK.