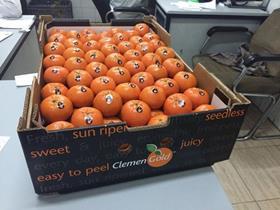 Mandarin brand ClemenGold has confirmed that this season's Northern Hemisphere export programme is now underway, with the first fruit already heading out of Morocco bound for Ireland.
According to Dublin-based importer Donnelly Fresh Foods, those first consignments are bound for Irish retailer SuperValu, which expects to have the fruit on sale by the end of January.
Now in its fifth year on the international market, the ClemeGold trademark has proven a hit with a number of retailers and importers – notably SanLucar, which acquired the exclusive rights to market it in Germany and Austria three years ago, and Asda, which recently revealed it was working with the trademark's owners to develop new forms of packaging for its premium citrus range.
As well as being sold in its home market South Africa, the branded soft citrus is now available in a number of Northern Hemisphere countries including the UK, Germany, Austria, the Netherlands, Belgium, Canada, Spain, France, Italy, China and Hong Kong.
And while ClemenGold is currently only used to market the Nadorcott mandarin variety, it is expected that new varieties could be added to the marketer's portfolio in the near future after the company's brand manager Michelle Kruger confirmed that some potential additions are already "beyond the testing phase".