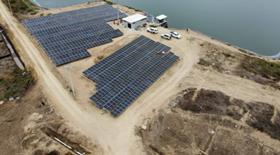 An Ecuadorean banana producer has set up the biggest solar energy installation in the country's banana industry.
Mundo Banana, which grows organic and conventional bananas, inaugurated the US£300,000 facility this week at its Don Polo farm in Chanduy in the province of Santa Elena.
The 780 solar panels were installed by Genera and have the capacity to generate 413.8 kilowatts of energy.
Mundo Banano's general manager Ricardo Umpiérrez said the initiative would make a big contribution to the overall sustainability of the operation.
"By scale, it is the largest photovoltaic project in the banana sector in the country," Umpiérrez said.
"It will allow us to reduce our CO2 emissions by 100 tonnes a year and aim for energy costs to be reduced by at least 50 per cent."