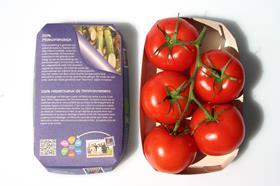 Organic fruit and vegetable specialist Nature & More has introduced a new range of sustainable packaging derived from sugar cane on a large scale.
The company claims the material, similar in appearance to fine cardboard, beats almost all other materials when it comes to sustainability: being made of waste material it is easily compostable, tree-friendly and plastic free.
Paul Hendriks, Nature & More's packaging expert, said the company had been working two years to develop the packaging together with its suppliers. "We are now selling organic vine tomatoes, pears and physalis packed with the sugarcane materials and our customers are very pleased with the first results," he said. "I feel that we have taken a major step in packing innovation."
Carrefour is one of the company's first clients to have opted for organic fruits and vegetables packed in the new material. Product manager Julie Mahmoun said the retailer had opted to use the packs for its organic fruit and vegetable range because the sugar cane trays fitted the retailer's philosophy. "As part of our anti-waste programme, packaging is a very important issue for Carrefour. We encourage our suppliers to minimise the environmental footprint of packaging by focusing on recycling and working with renewable and waste materials," she said.
Nature & More is in the process of replacing its old trays, tags, labels and stickers with the new materials.