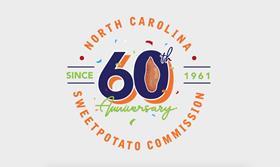 The North Carolina SweetPotato Commission (NCSPC) is celebrating a major milestone after the organisation turned 60 on 30 June.
The commission kicked off a year of celebration with the unveiling of an anniversary logo, and special shoutouts from well-known sweet potato fans on social media throughout the day.
Familiar faces who sent their good wishes included Dionne Warwick, Vanilla Ice, Ted Nugent, David Hasselhoff, Jackie Joyner Kersee, Kristi Yamaguchi and Ric Flair.
NCSPC staff got the festivities officially started on 28 June with a 60th birthday party for their mascot, Spencer Sweetpotato, where many North Carolina commodity mascot friends joined in the celebration.
As the NCSPC blows out its 60 candles, the organisation said its birthday wish was that the produce industry and consumers alike would join them in using the scientific one-word spelling of their state vegetable.
The North Carolina SweetPotato Commission deliberately spells sweetpotato as one word unless directly quoting a source where it is spelled as two words.
The one-word spelling was officially adopted by the National Sweetpotato Collaborators in 1989 and is recognised as one word by the International Potato Center located in Peru.
"There are many exciting things planned to mark our 60 years," said Michelle Grainger, executive director of the NCSPC. "In the coming weeks we will be sharing more of our story with our commodity friends, that North Carolina is the nation's largest producer and exporter of sweet potatoes and of course educating them that 'sweetpotato' is one word.
'There's plenty more to come throughout this year and we encourage the community to follow us on our social media channels to stay in the sweet loop to learn more about North Carolina sweet potatoes, their health benefits, delicious and versatile recipes and new and exciting ways to prepare them."