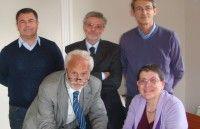 A new association which brings together directors and managers from the leading wholesale markets in the Mediterranean region has been officially inaugurated at a special meeting in Rome.
AssoMedMarkets, the International Association of Wholesale Market Directors in the Mediterranean, has been established in order to create a support network for the region's wholesale centres and to promote their role as 'centres of intelligence' within the agri-business sector.
The not-for-profit group will also encourage the protection and promotion of a Mediterranean-style diet, while also emphasising typical regional products.
During the coming 12 months, the association's president will be Pietro Cernigliaro, who is also president of the Italian Association of Market Directors, Andmi.
He is joined on the directorial committee by: Mauro Ottaviano, director of Rome Wholesale Market; Valter Vannucci, director of Rimini Wholesale Market; Marco Hrobat, director of Brescia Wholesale Market; and Antonio Felice, director of Green Med Journal, which is also involved in the new venture.