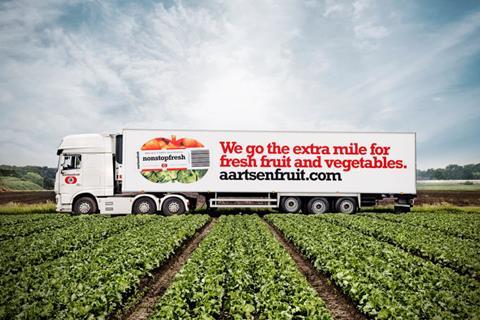 Dutch company Aartsenfruit has unveiled a new brand identity, positioning itself as a one-stop shop for all kinds of fresh produce sourced from anywhere in the world.
The branding, which labels the group's service as Nonstopfresh, has been designed to evoke the idea of products travelling across the globe to arrive at their destination.
According to owner and managing director Jack Aartsen, the new concept aims to underline the ingenuity of Aartsenfruit's business model, which apparently includes the distribution a total of 18m cartons, or 200,000 tonnes, of fresh fruit and vegetables every year from 35 countries to its customers.
"Nonstopfresh makes it immediately clear what we do," he commented. "We go far. Very far. We go around the world and do literally anything to get the finest products direct from source to our offices in the Benelux, and our office in Hong Kong."
Despite setting a high bar when it comes to product quality and service provision, Aartsen admits the company's previous corporate identity wasn't necessarily as inspiring as it could have been."A few months ago, I found that we no longer shone on the outside," he explained.
Working with Breda-based agency SuperRebel.com, whose attitude towards the project Aartsen describes as 'plain-speaking', it was able to develop a new, more convincing story. 'The Nonstopfresh concept that came out of that now serves as the basis for our new, fresh look.'
He added: "What characterises Aartsenfruit is: if we do something, we do it right. We will therefore implement the concept everywhere in no time."
Next year, the company is planning a substantial expansion and renovation of its head office site in Breda.