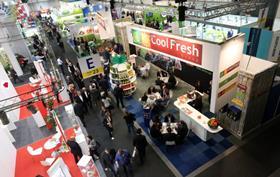 Fruit Logistica 2016 in Berlin, which took place on 3-5 February, broke new ground by attracting over 70,000 trade visitors from over 130 countries to the three-day event.
According to Messe Berlin chief executive Dr Christian Göke: 'Fruit Logistica marked a special milestone this year with an unprecedented 70,000 trade visitors. We are delighted by the new attendance record as well as by the high intensity of business and professional networking. The international scope of this event could be experienced in a very unique way.'

Some 2,891 exhibitors from 84 countries presented a complete market overview of the fresh produce industry in Berlin.
Along with the many oppor­tunities to initiate and conclude business transactions, the global attention attracted by the trade fair was especially important to exhibitors. The high level of innovative strength in the sector was clearly demonstrated by no less than 27 world premieres.