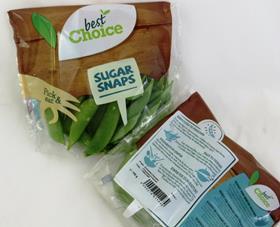 Belgian importer Special Fruit has introduced brand-new packaging for sugarsnap peas under its BestChoice label, a mark guaranteeing quality, taste, respect for nature, freshness and health.
'We have also applied these values to the packaging,' the company said in a statement. 'The fibre-rich legume therefore comes in a handy, quality bag that has been given a completely new look.'
The advantage of the new laminated film packaging is that it replaces the non-eco-friendly punnets and guarantees a longer shelf-life, while giving the fresh product a prominent role on the packaging.
The product's quality is visible through the transparent section, and the back of the bag features tips for preparing the product, including the recommendation that it be eaten as a snack.
Special Fruit stressed the sustainability efforts made for this product, as well as for the rest of the company's offering.
'Special Fruit is known for its year-round assortment and co-operation with suppliers from different countries,' the company said. 'They are selected based on sustainable trade and production. To help protect the environment they are shipped to Europe as much as possible. They are then packaged in our warehouse in Meer by Qualipack, a joint venture between Fair Fruit and Special Fruit, in bags offering the advantage that the weight is selected by the customer.'