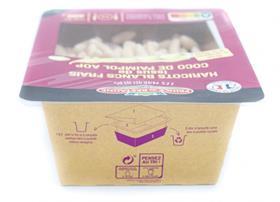 French marketer Prince de Bretagne has launched a new cardboard tray for its PDO Coco de Paimpol ready-to-use haricot beans, resulting in a threefold reduction in the use of plastic.
The move forms part of the cooperative's Sustainable Development and CSR commitment to meet consumers' expectations on health and the environment.
The new packaging also eliminates the shelling stage, according to the marketer, allowing for direct cooking of the beans, which need no soaking. Although the beans are pre-shelled, they require no treatment for conservation.
The product was awarded the top Nutri-score of A, according to the national nutritional labelling system, in addition to the LSA Innovation Trophy for 2019.
Having launched the 220g container last year, Prince de Bretagne now offers 400g tubs of Coco de Paimpol beans, a format suited to families of four or more, as well as to restaurateurs.
According to Prince de Bretagne, it is thanks to its new, even more automated packing facility that all the different packaging requirements can be met.
In the frozen category, 1kg bags are provided for restaurants, while a 450g bag is available on the supermarket shelves. Traditional Coco de Paimpol beans in pods are also available in 1kg, 5 kg and soon 8kg.
According to the marketer, all of these ingredients make Coco de Paimpol beans an 'emblematic product of the Prince de Bretagne brand'.
The beans are grown in Paimpol in the French department of Côtes d'Armor, a region with an oceanic climate and loamy soil ideal for optimum quality, with harvesting taking place between July and the end of October.