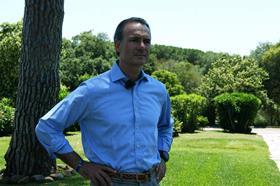 For a new entrant in Spain's booming avocado industry, Las Lomas is certainly not short of ambition. As it prepares to harvest its first commercial crop of Hass next year, the company has set itself the goal of becoming the European benchmark in sustainable avocado production.
Las Lomas was established in 1948 and today is one of the largest traditional farms in Europe, supplying fruit and vegetables alongside other activities such as cotton and cereal farming, cattle and horse breeding and hunting.
Located in the Cádiz region, which has a long-established agricultural tradition, the 9,000ha farm prides itself on its sustainable product model and harmony with its surroundings.
"Every three years we launch new crops, which are trialled in our test fields. We had great results from our avocado and almond planting, so we thought that due to our environmental advantages and our highly knowledgeable technical team, that it would be a good combination to create a value-added crop to be used as a benchmark across Europe," says the company's CEO Carlos Masaveu.
"We are highly focused on environment and value-added products – superfoods such as grapefruit, sweet potato, broccoli and kale are already part of our portfolio and we grow a large selection of organic produce. We are aware that the consumers requirements are leaning towards more sustainable and ethically grown produce and this is well aligned with our own philosophy."
The company is halfway through a six-year avocado planting project that will deliver the first commercial crop in 2021, after which it plans to ramp up production to reach a total volume of 10,000 tonnes of conventional and organic Hass avocados by 2025.
The fruit will be sold initially through its two commercial offices – one in Peterborough, UK, supplying the UK market, and the other in Madrid that services customers in mainland Europe. Further down the line, it plans to supply markets in other parts of the world with its organic and premium lines.
Masaveu says Las Lomas has been recognised throughout the years for benchmarking growing techniques in certain crops and is now working on a long-term project with the vision to be an innovator in avocado production across Europe.
All of the company's avocado plantings are controlled by ambient and soil moisture sensors, microclimates with stable temperatures are created under the ground covers to optimise the irrigation. And its farm is one of the first to be GlobalGAP Spring certified, a new add-on to the certification scheme that recognises a company's commitment to sustainable water management.
"The environment is one of our main assets, the other being the two large reservoirs on the farm, which give us a big advantage when it comes to avocado production," says Masaveu.
Given the current strength of demand for avocados, it's no surprise that the company has singled the fruit out as a future export winner.
"It will be very interesting to see what happens in the avocado market over the coming years, especially with the new production from around the world," agrees Masaveu. "European demand is much higher than any potential Spanish production due to the limited areas where it can be planted.
"Avocado is a crop with a lot of possibilities, not just as a fruit, but also with the innovative products and recipes that are being created within the industry. We have seen a continuous growth in consumption across the world and Las Lomas is excited to being involved in the production of this amazing fruit."
Eurofruit Magazine
Enjoyed this free article from Eurofruit Magazine and its team of editors? Don't miss out on even more in-depth analysis, plus all the latest news from the fresh produce business. Subscribe now toEurofruit Magazine.