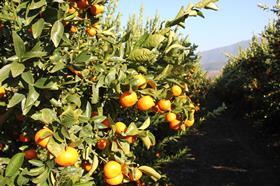 New mandarin and clementine plantings are set to lift Chilean citrus exports in 2020. According to the latest forecast from the Chilean Citrus Committee, citrus exports are projected to reach 353,000 tonnes this season, an increase of 6 per cent on last year.
Mandarin exports are set to rise 24 per cent to 115,000 tonnes, while clementines are expected to rise by 21 per cent to 61,000 tonnes.
Juan Enrique Ortúzar, president of the committee, said the rise is due to an expansion in planted area during the last ten years.
"We estimate that new plantings have increased by a rate of more than 600ha annually and that current area already exceeds 9,000ha," he said.
By contrast, orange volumes are forecast to drop 13 per cent to 87,000 tonnes. Lemon exports will remain broadly unchanged at 90,000 tonnes.
Ortúzar said the fall in orange production was due to slowdown in the rate of new plantings as producers opted to replace groves with other products.
He noted that the drought that has affected several regions in Chile is also likely to affect citrus production, but the extent will not be known until later in the season.
Chile exported 333,382 tonnes of citrus in 2019, with the bulk of shipments going to the North American market. At the end of last year it negotiated the opening of the Chinese market, giving it another potentially lucrative outlet for the coming campaign.
Exports in times of coronavirus
Ortúzar pointed out that while it is too early to speculate on the possible impact of the coronavirus pandemic on the export campaign, "the national and global market needs to maintain a supply of fruit, and the consumption of citrus that is rich in Vitamic C, which strengthens the immune systems, seems to be on the rise".
The committee said Asoex has taken all the necessary measures to protect workers, launching a manual for good practices to be followed in fields and packhouses.
"All the actors in this process, including producers, packhouses, exporters, transporters and port operators, are working to operate as safely as possible in a season that is a huge challenge," Ortúzar said.