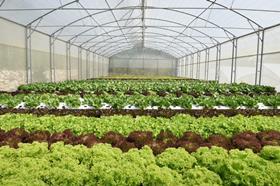 Lebanese horticultural supplier Robinson Agri has introduced the use of the nutrient film technique (NFT) to produce certain lettuce systems, after help from Dutch vegetable seed company Rijk Zwaan.
Robinson Agri, which has been Rijk Zwaan's exclusive distributor in Lebanon since 2000, is using the technique to produce Lollo Rossa, Lollo Bionda, Little Gem and Batavia lettuce in a hydroponic channel system, a first for the country's growers, with the first five projects already underway.
"We've always been a pioneer within our industry, so being the first company to launch professional NFT projects in Lebanon fits with that tradition,' said director Nadine El Khoury. We've been supplying top-quality products to horticultural companies since 1971, and we've continuously expanded our range of activities over time.
'Today, we offer turnkey projects: greenhouses and greenhouse systems, irrigation systems, crop protection and also young plants and hybrid seed,' El Khoury noted. 'Thanks to Rijk Zwaan's support, we have been able to introduce high-quality varieties like mini cucumbers, new lettuce and pepper rootstocks in Lebanon.'
The region is a very big sales market for fresh produce, El Khoury explained, with Lebanese consumers eating a lot of salad with any meal of the day.
The most popular lettuce type is traditionally cos, but due to the rise of 'new cuisine', people are becoming increasingly interested in other, higher-end lettuce types such as Lollo Rossa and Little Gem. Fast-food chains such as McDonald's and Burger King are playing a role in this too, and since 2007 there has been a growing demand for all kinds of lettuce types, including other countries in the Middle East and North Africa.
"NFT enables us to respond to that rising demand,' El Khoury said. 'Two years ago our agricultural engineers joined some Rijk Zwaan employees on an NFT study trip to Malaysia. They came back filled with such enthusiasm that we set up demos at two of our trial locations last year.
'The specialists from Rijk Zwaan helped us, not only with the choice of the right lettuce varieties but also with technical issues such as fertilisation. They even provided the right packaging, so that we can answer all the growers' questions. It's thanks to their expertise that we've been able to launch NFT here. The system costs are considerably higher, of course, but that's outweighed by the benefits.
Lettuce yield with NFT is four to five times higher, El Khoury outlined, with soil-grown lettuce is harvested four times per year, and with each harvest producing around 4,000 plants per 1,000m2.
'The NFT method enables seven harvests per year and a yield of 11,000 plants per 1,000m2 each time, which is a big difference,' El Khoury added. 'In terms of other advantages, this method is more hygienic and reduces water consumption – not only during crop production, but also when cleaning the lettuce ready for sale.
'On top of that, the production process can be automated which saves labour costs. And, further down the chain, the product has a longer shelf life because the lettuce plants are harvested and sold with their roots still attached. In other words, NFT delivers a good return on investment."