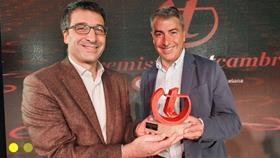 Semillas Fitó has won the Talent Cambra Award for Food and Drink for its Nippo tomato. The annual prizes, granted by the Welcome Talent Society and Barcelona Chamber of Commerce, celebrate Catalan talent with the aim of improving the Catalonia brand.
The seed company describes Nippo as a variety with exceptional flavour that introduces the concept of 'melt-in-the-mouth' texture.
"With Nippo I have discovered the pleasure of eating a tomato with an almost invisible skin, melting texture and a sweet flavour that is both intense and deep," said celebrated chef Ferran Adrià.
Semillas Fitó's director of corporate affairs, Eduard Fitó, and director of business development, Jordi Ballester, said the award was recognition of the company's commitment to disruptive thinking and responsible innovation.
Nippo was developed by Semillas Fitó's Foodture team, a multidisciplinary team that designs new concepts of vegetable varieties to respond to consumers demands regarding quality, health, new tastes and formats.