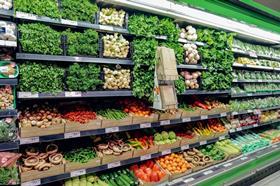 A move by one of South Africa's retailers to reduce the use of plastics in its fruit and vegetable section is proving to be very popular with consumers.
Retailer Pick 'n Pay announced earlier this month that it would conduct a trial at 13 stores in South Africa with 12 new seasonal loose fruit and vegetables, which are being sold in fruit and vegetable walls and referred to as 'Nude fruit and veg'.
Head of produce and horticulture at Pick 'n Pay, Liz Van Niekerk, told Business Insider that trial stores are reporting really good feedback and the reaction has been better than the company had expected.
"We're working hard to reduce prices of our nude products still further, so customers will receive even more value," she told the publication.
In terms of the concept, shoppers can bring their own containers for the produce, or purchase a reusable netted bag from the store.
The company has also introduced the laser printing of expiry dates directly on vegetables to reduce plastic use. This removes the top layer of skin on hardy produce and etches the Pick n Pay logo, supplier code and sell-by date directly onto the individual product.
The move to reducing plastics used in South African retailers is gaining momentum following a huge information campaign in celebration of World Oceans Day in June. Pick 'n Pay announced a set of focused initiatives to reduce plastic waste.
Another leading retailer, Woolworths, announced that it plans to be the first retailer in South Africa to contribute zero packaging waste. The retailer said it aims to have none of its packaging end up in landfills, which will require the introduction of 100 per cent recyclable materials and a supportive recycling infrastructure.
This will include the phasing out of unnecessary single-use plastics, and the commitment for all its packaging to be either reusable or recyclable by 2022.
Woolworths has also introduced only re-usable bags in some of its stores and its sustainability programme has been a feature of the retailer's trading in food products in recent years.
Pick 'n Pay's move follows a commitment made by chairman Gareth Ackerman in April to put programmes in place to reduce the use of plastic in-store that is not recycled or recyclable.
Should 'Nude fruit and veg' be successful it could change the entire way growers deliver their fruit and vegetables to retailers. In the past these kind of initiatives quickly spread from one retailer to the other as they vie with each other to leave an environmentally friendly footprint.
What is different this time is that the problem of plastics pollution in the oceans have been aired in the media to such an extent that it is top of mind with consumers. The sight of plastics being removed from inside turtles at Cape Town's Two Oceans Aquarium and the port of Durban being overwhelmed by plastics during recent floods have finally brought the message home.