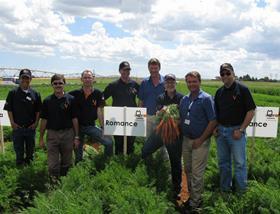 Nunhems has reported on its participation at the 2011 International Carrot Conference, which took place on 30 November-2 December in Muldersdrift Johannesburg, South Africa.
The group, the vegetable seed business of Bayer CropScience, provided a speaker in the shape of Roger Freeman, a carrot breeder at Nunhems USA, who gave a presentation on disease resistance.
At the conference's field day event, Nunhems presented its Nantes and Imperator assortment together with 'Starke Ayres', with the team enjoying many interesting discussions with the visitors and receiving a lot of attention for itsRomance F1 variety.
Into its 35th edition this year, the International Carrot Conference was organised in collaboration with the world's largest carrot company Greenway Farms, and attracted some 182 visitors from across the globe.