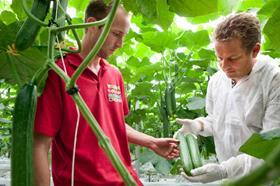 Seed company Nunhems has launched the third edition of a series of high-wire white papers, focused on the expansion of artificial lighting in cucumber high-wire cultivation.
In the paper, experts from BASF discuss the reasons for and the consequences of the use of artificial lighting in cucumber cultivation, looking at the technology, the solutions for cultivation, and the developments in various cultivation areas around the world.
'The use of artificial lighting in horticulture has grown extensively in recent years and is expanding in nearly all greenhouse crops, most notably for tomatoes, cucumbers, and lettuce,' the group noted. 'The reasons for this are manifold: It enables growers to ensure year-round supply, it leads to an increase in production and high product quality, and it responds to the demand for 'local for local' products and a diversity of products.'
The white paper can be downloaded from Nunhems' website.