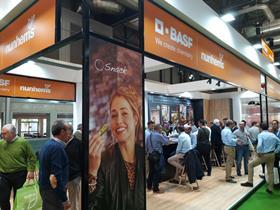 Nunhems is inviting its supply chain partners to join a new global campaign to help consumers adopt a healthier, more sustainable diet.
Under the slogan 'Join the movement for a better tomorrow', the seed company aims to demonstrate that it is possible to eat healthily and enjoy it while also contributing to a more sustainable planet.
Nunhems has developed a range of healthy recipes to show how easy it is for consumers to increase their daily intake of fruits and vegetables.
During last week's Fruit Attraction in Madrid, visitors to the company's stand had a chance to sample the dishes, which include cucumber, spinach and kiwi smoothies, watermelon with 85 per cent dark chocolate and peppercorn and egg paté, all served in recycled containers to highlight the sustainability message.
"Instead of promoting the products we're promoting the message that healthy eating can be enjoyable and sustainable," said Francisco Solera, country sales manager Iberia for BASF Vegetable Seeds.
According to Nunhems, there are six occasions during the day that offer the opportunity to increase fruit and vegetable consumption, including breakfast and as an after-dinner snack.
"Only 4 per cent of the fruit and vegetables we eat are consumed first thing in the morning, so there is huge potential to develop this segment," Solera said.
The company is seeking the collaboration of every link in the supply chain, from the grower through to the retailer, in order to ensure the message reaches the end consumer.
Seed companies, producers, distributors…all of us help to provide the world with healthy food and improve the sustainability of the planet," Solera concluded.