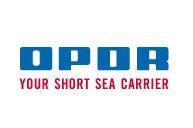 OPDR Hambug has announced the expansion of its Portuga/North Spain service, which provides a connection between the Iberian Peninsula and the major ports in northwest Europe.
The revised service, which began in June, has seen an increased frequency of sailings from once a week to at least two sailings per week – on certain legs even up to three departures – from the north continent to Lisbon, Leixoes and Vigo.
The six vessels operating in this service are deployed in cooperation with the group's partner X-Press Container Line, while there are also direct sailings with short transit times and there is a call at an additional terminal at DP World in Antwerp.
'We are convinced that this improvement of service will be of great interest for our existing as well as potential customers,' the group said. 'By reducing our transit times and the extension of the departure frequency, transportation of cargos by sea becomes even more attractive and a flexible alternative to the road traffic – in particular regarding perishable reefer cargo.
'Further advantages of this service are the independence of seasonal bottlenecks, higher rate reliability and the reduction of the carbon footprint,' OPDR added. 'The restructuring of the current service setup will also include benefits for our deep sea clients in terms of better connections with their own services in the hub ports.'