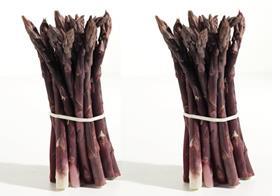 The European market could offer asparagus producers and marketers good opportunities for growth in the coming years, despite the vegetable remaining something of a niche product and despite intense competition and rising costs.
That was the view of Luciano Trentini, president of the European Asparagus Producers' Association, who was speaking at the recent Euro Asper 2010 in Coventry, UK.
Organised by the British Asparagus Growers Association, the convention revealed that global production of asparagus now stands at more than 1.3m tonnes, of which around a quarter (240,000 tonnes) is grown in Europe across a planted area of around 60,000ha.
The bulk of the continent's asparagus production is concentrated in just three countries, with Germany (98,000 tonnes) in first place, followed by Spain (48,000 tonnes) and Italy (43,000 tonnes).
Despite facing stern competition from producers in Latin America – notably leading exporters Peru (240,000 tonnes) and Mexico (60,000 tonnes) – as well as from the US (51,000 tonnes) and, increasingly, China (500,000 tonnes), European growers are in a unique position to meet this challenge by competing on quality and above all their proximity to market, which puts enables them to supply the freshest, best-tasting product, said Mr Trentini.
'In terms of asparagus consumption,' continued Mr Trentini, 'the situation appears to be evolving positively. Demand is growing on the back of targeted promotional activities which without doubt can increase the product's popularity among young European consumers who don't yet know this speciality very well.'
During the course of the two-day meeting, speakers also drew attention to the increasing cost of producing asparagus in Europe, something which was blamed in particular on the lack of available man-power.
Contributors also discussed the need to innovate more, both in terms of the product itself and the production and distribution process, referring in particular to new imperatives relating to the environment.
Others suggested the asparagus industry might benefit from the establishment of a protocol for producers and retailers which might guarantee sufficient returns and safeguard Europe's high-quality production in the face of strong global competition.
'The prospects for producers, albeit mixed, are by no means negative, especially considering the potential expansion of consumption and industry's fairly good level of profitability,' concluded Mr Trentini.
Italian asparagus production has expanded significantly in recent years, with the country's total planted area increasing from 5,500ha in 2000 to 6,500ha last year.
Average output in Italy stands at around seven tonnes per hectare. Although profit levels remain 'moderate' according to Mr Trentini, he also revealed that harvesting and packing costs in the country now stood at 'more than half' the total cost of asparagus production in the country.