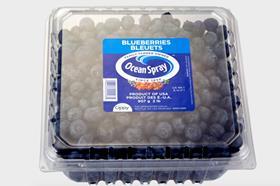 Oppy's has said that its Ocean Spray blueberries are ramping up to peak just in time for July's National Blueberry Month promotions in North America.
Since 2017, the grower-supplier has brought blueberries to market under the Ocean Spray label, in addition to other successful berry and citrus lines.
Oppy brings conventional and organic blueberries to market year-round, grown in California, as well as the Pacific Northwest and other international locales.
"Our Ocean Spray blueberries adhere to incredibly rigorous quality standards, and that means only the absolute best fruit makes it to the shelves," said Oppy's vice-president of categories of berries & greenhouse Jason Fung. "By combining Oppy's year-round growing with the highly-regarded Ocean Spray brand, we've been able to bring clarity and quality to consumers in a category that generally faces challenges with label pollution."
Oppy's Ocean Spray blueberries continue to find traction every year, according to the group, with sales volume increasing by 72 per cent between 2017 and 2019.
July features Ocean Spray blueberries grown in Washington and British Columbia, where the growing seasons have been excellent and microclimates yield exceptional fruit, according to Fung.