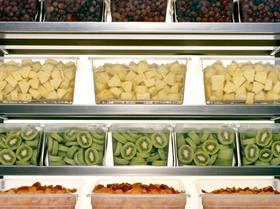 Italian company Orsero Group has officially opened a new packhouse in Cagliari, Sardinia, further expanding its production and distribution network for convenience products including fresh-cut fruit.
The new 500m2 facility is situated next door to an existing fresh produce packhouse run by wholesaler and distributor Fruttital Cagliari – now a fully owned subsidiary – and can apparently turn out around 15,000 packs per day.
Between 15 and 40 people will be employed at the centre, depending on seasonal demand, to manage the increase in production.
Orsero has made it a central part of its commercial strategy to meet growing demand for fresh convenience products across Italy.
In January, it opened a major new packhouse in Molfetta, near Bari, to expand supply of fresh convenience products in southern Italy, adding to an existing dedicated fresh-cut centre in Florence.
Then in April, it added a third such facility in Verona. All three product centres, as well as the new one in Cagliari, are equipped with the latest technology for cutting fruit.
This week's Sardinia opening is expected to refresh Orsero's Italian business further, giving it an even bigger slice of the growing convenience market.
With product shelf-life for fresh-cut produce even more limited than for conventional fruit and vegetables, transport times need to be as short as possible, hence the need for the company to establish a production site on the island of Sardinia itself – a key tourist destination – rather than managing logistics from one of its mainland sites.
Earlier this month, Orsero took full control of Fruttital Cagliari by acquiring 75 per cent of the company's capital via its own subsidiary Fruttital.
Raffaella Orsero, the company's chief executive, said she believed the group had made a good decision in pursuing new growth in the market for convenience products.
'According to Nielsen data, fresh-cut [sales] have grown significantly in the last ten years, by almost 400 per cent,' she observed.
'These numbers show how good Orsero Group's strategic choices have been. With this new opening, it aims to grow and establish itself in this specific sector by continuing to invest in Sardinia, a region with a strong tradition of summer tourism and therefore perfectly in line with the consumption of chopped fruit.'