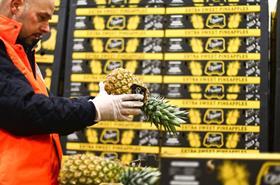 One of Europe's largest fresh fruit and vegetable importers, Orsero Group, says it expects its business to perform strongly in 2021 after posting higher sales and a sharp increase in net profit during 2020.
The company, which has its administrative head office in Milan, said it expected net sales to reach between €1.04bn and €1.06bn this year, generating an anticipated net profit of around €13m-€15m.
In the meantime, the group can look back on a notable period of growth in the past year. Its net revenue came in at €1.04bn, up 3.6 per cent on the €1.01bn registered in 2019. Adjusted EBITDA of €48.4m was up 25 per cent, with overall net profit up €10m to €12.3m.
Those results were thanks in part to solid growth in its import and distribution business, where net sales were €32m higher at €982.8m.
The division's adjusted EBITDA for the year was €36.7m, up €7.4m year on year, as a result of positive performances in its Italian, French and Spanish companies. The latter, it said, was on the way to "more correct levels of profitability".
Elsewhere, Orsero Group's shipping business – including four owned and one leased vessel – saw its own net sales jump by €10m to €95.3m. Adjusted EBITDA was €17.7m, up 26 per cent.
Facing up to the pandemic
The effects of the Covid-19 crisis were certainly felt by the group – in Italy first, and then other European markets in which the group operates, such as Spain, France, Greece and Portugal.
But given the nature of its business, the company said, the pandemic had "no negative effects" on sales and results. A reduction in foodservice sales was offset by a greater volume of sales to major retailers, it noted.
Group chief executive Raffaella Orsero commented: "Having achieved and exceeded the goals we have set for 2020, despite the numerous socio-economic challenges caused by the pandemic, continues to demonstrate the solidity of our business model in a certainly resilient sector."
Matteo Colombini, CFO and co-CEO, added: "We are very satisfied with the excellent results achieved in 2020 which provide us with significant improvement in economic and financial indicators in all the group's operating business units, despite the fact that some products in our basket, linked to out-of-home consumption, have been significantly impacted by the effects of the pandemic."
To ensure its business kept operating, the group had to make certain changes in order to protect employees and third parties in its warehouses, markets, and offices.
"The pandemic has highlighted the true value of what we do, providing people with fresh and healthy products every day," said Orsero. "We have worked in every part of the world with commitment and imagination, managing the unexpected and circumventing obstacles to meet an unpredictably volatile demand.
"Our customers have shown incredible flexibility and adaptability. Everyone did their part with a wonderful cooperative spirit. Unfortunately, the challenge is not over yet, but we are confident that we will continue to face it."