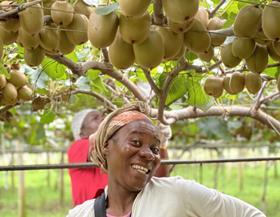 For the third year running, French marketer Primland has announced the arrival of Oscar Gold kiwifruit from South Africa, as its Southern Hemisphere campaign gets underway.
According to the company, its partnership with producers in South Africa has only strengthened each year, with improved product flavour enabling increased volumes.
This season, the marketer revealed, more than 45,000 trays of Oscar Gold will be sold over a longer period, from mid-March until the end of May.
'This increase in production has been made possible by better management of the orchards and favourable weather conditions,' Primland stated. 'This has also resulted in great flavour.'
The transfer of Primland's experience with gold kiwifruit has also enabled growers to optimise harvest dates, the company said.
'However, some challenges remain,' Primland stated, 'particularly regarding logistics, since the maritime transport sector is still suffering.'
In addition to South Africa, Primland sources Oscar Gold from France, Greece, Italy and Spain, with the aim in each country being 'to build strong, hands-on partnerships with growers'.