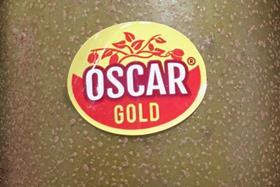 French kiwifruit marketer Primland has announced the arrival of Oscar Gold kiwifruit on the shelves, with the company continuing to ensure the availability of the fruit during the Covid-19 crisis.
Through its active partnership with producers in South Africa, Primland has been offering premium-quality yellow kiwifruit from 10 April, sold under the Oscar Gold brand.
This commercial success has been made possible by work upstream in the supply chain by the company's on-site technical teams, according to Primland's CEO, Jean-Baptiste Pinel.
In close collaboration with local kiwifruit producers, the best growing areas and varieties are chosen, while Primland's logistical expertise ensures that the fruit is transported to stores, ready for consumption.
During the current coronavirus crisis, Primland revealed that it was organising its workforce well in order to continue its role of supplying stores with Oscar kiwifruit.
'All our employees are mobilised to respond to the current very high demand and to provide a high-quality product," said Pinel. "In these difficult times, our primary concern is to ensure that everyone stays safe.'