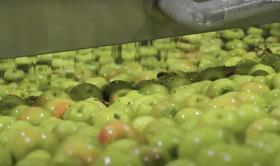 British Columbia-based Okanagan Specialty Fruits (OSF) says this year's Arctic apple harvest was its biggest yet.
The range of non-browning apples, developed and grown by OSF on its orchards in Washington State, comprises Arctic Golden, Arctic Granny and, for the first time this year, Arctic Fuji, with which 1,350 acres were planted this season.
"This was a monumental harvest for OSF, and our largest ever," said Don Westcott, vice president of operations, sales and marketing for OSF.
"It also marks the first harvest of our ArcticFuji variety. The ones picked this year will be used for product testing and customer sampling.
"There's been lots of anticipation from our customers to add a red-skinned apple to our product portfolio and we are extremely excited to bring the ArcticFuji to market."
Approximately 20,000 bins of ArcticGolden and ArcticGranny were harvested this season, or 17m lbs.
OSF said the crop came in at estimate and was of excellent quality, even with the unprecedented heat experienced this past summer.
"Our harvest wouldn't be possible without our great orchard staff," said Tony DiMaria, OSF's orchard operations manager.
"Harvest is always a favourite time of year, as we finally get to watch a year of hard work come to fruition."