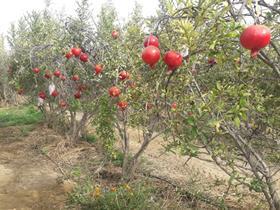 OTC Organics has added Peruvian-grown pomegranates to its growing line-up of sustainable organic fruit and vegetables.
The company has teamed up with organic grower Ruben Barrera and its strategic partner, Empresa AEI, in a joint venture where the trees are grown with the greatest care exclusively for OTC Organics.
The first fruit was picked in January and has now arrived in the Netherlands. OTC said it would receive eight containers this season, scheduled to arrive between weeks 7 and the end of April.
The goals is to reach 20+ containers by 2024 with the cooperation of Barrera and other producers the company is already working with.
Ruben Barrera owns two organic farms – Fundo Mi Leslie and Fundo Alinat – near Casma in northern Peru, producing mangoes, avocados and pomegranates. The groundwater at Fundo Alinat contains a higher salt content, which is particularly suitable for the cultivation of pomegranates.
Product development manager Alexander Restrepo said: "The farm is Bio, GlobalGAP and GRASP certified. In close cooperation with our product development team our grower is working hard to obtain Bio Suisse and SPRING certification in the future.
"We have been pushing to obtain the SPRING certificate as we aim to push for better water management in our own projects.
"Ruben has many years of experience in organic cultivation, has a lot of technical knowledge and is happy to share his knowledge with other fellow growers who come to visit him sometimes. A perfect fit with the core values of OTC Organics."
OTC plans to offer a variety of packaging formats to customers, including laser printing, which is ideal for pomegranates due to their thick skin.