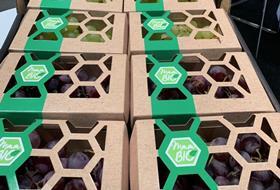 Netherlands-based OTC Organics has launched new table grape packaging to meet increasing demand from its end customers.
The 400g carton packaging has been released ahead of the of the South African organic table grape season, the group noted.
'Reducing plastic packaging for vegetables and fruit is perhaps the most discussed topic of the moment,' OTC explained. 'Retailers, distributors, packers, consumers and OTC Organics too want nothing more than to have all (plastic) packaging disappear from the shelves tomorrow.
'Many products can easily be traded without packaging, for other products this is more complicated,' the group continued. 'We all know the image of grapes in a plastic clamshell. This plastic bowl has been developed to protect the product and makes the transportation of the grape is the widest sense of the word safer and easier. Despite the fact that the plastic bowl is 'the standard' and also the cheapest packaging alternative, OTC Organics felt we had to change this.
'Together with our packing partner Eurowest, we have developed an alternative that can easily be recycled after use because it consists of paper, a modern step towards a plastic-free shelf.'