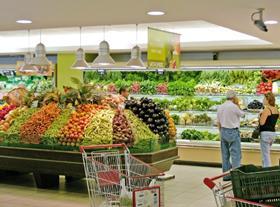 Groupe Casino has this week revealed that total sales climbed 6.5 per cent through the third quarter of 2010, coming in at €7.18bn, with organic growth of 3.4 per cent (excluding petrol).
Strong international sales were the main driver of the improved year-on-year performance, rising 17 per cent to €2.6bn, led by Brazil, Colombia, Thailand and Vietnam and representing 37 per cent of the consolidated total.
In France, sales grew slightly by 1.1 per cent at €4.54bn, or 0.2 per cent on an organic basis excluding petrol. Discount brand Leader Price saw same-store sales return to growth, with Geant supermarkets recording a slight loss and Casino supermarkets registering a 'satisfactory' performance.
'Price cuts have been effective, translating into better traffic numbers at Leader Price and the first signs of improvement of traffic trends at Geant,' group CFO Antoine Giscard D'Estaing told French media. 'We need to strengthen the sales momentum at Geant and Leader price – it is a top priority.'