United Exports says its Peruvian-grown OZblu Magica remains the blueberry of choice for Chinese customers
As its first Peruvian blueberries of the new season arrive in China, United Exports is once again reporting strong demand for the OZblu Magica variety, to which it holds the exclusive marketing and sublicensing rights.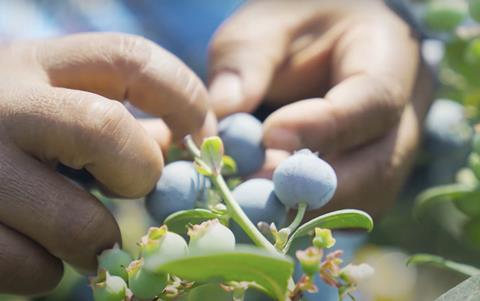 In 2019, the first shipment sold out within the first two hours of the launch. This year, United Exports said the sales level for the first arrival peaked at ¥180 to ¥200 – the top price this market has seen for Peruvian fruit so far in the 2022 season – outperforming all other varieties on price by between 20 and 30 per cent that day.
The company's vice president of sales in China, Sean Li, commented: "Chinese blueberry consumers are one of the most discerning in the world; they pay for quality. This variety delivers on that, time and again."
The blueberries were grown in Peru by United Exports' joint venture with Migiva and shipped to Shanghai's Hui Zhan Market by Riverking International.
Ozblu Magica is one of the OZblu blueberry varieties developed by Dave and Leasa Mazzardis Nature Select breeding programme.Known for its size, taste, texture and shelf-life, United Exports said it has redefined the blueberry category.
The variety once spent 51 days at sea and arrived scoring a Green Customer QC and fresh and ready for sale.
United Exports' founder Roger Horak commented: "This variety was selected to patent by top breeder Dave Mazzardis in 2009. United Exports has spent years innovating at a production level and has significantly invested in R&D.
"OZblu Magica is a category benchmark, delivering a superior, consistent eating experience and an extremely productive yield for the producer. And evidence suggests that the variety is highly sought-after by growers: we have had four IP thefts on four continents in the past three years!
"We have been successful in each case and will continue to defend our IP – relentlessly, so that we can continue to deliver good quality blueberries that offer a consistent experience to our customers and the consumers."