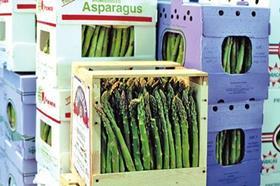 The Peruvian Asparagus Importer's Association (PAIA) has published its 2015/16 Category Management Plan Outline for fresh asparagus, containing trends, facts and information designed to aid those with an interest in the industry.
"Our Category Management Plan Outline is an essential tool for all involved in the trade of fresh asparagus," said Priscilla Lleras, PAIA coordinator. "The plan contains vital statistics identifying market growth, trends, industry facts and key demographics for the 2015/16 season, and this enable all involved to keep their fingers on the pulse of the asparagus industry."

Asparagus is a continued growing trade within the US, with the Department of Agriculture/Economic Research Service noting that the per capita consumption in the country is forecasted to increase per person. Peru is a leading import source for fresh market asparagus in the US as defined by the Category Management Plan Outline.
"Peruvian asparagus is a key contributor to the asparagus market,' said Walter Yager, Alpine Fresh and East Coast Co-Chair of PAIA. 'Without it, most retailers would not be able to provide consistent year-round supply of fresh asparagus to their customers. Peru's contribution to the asparagus category helps stabilise the market and allow for a constant supply of quality product.
"Peruvian asparagus remains one of the most reliable produce items to promote at retail level on a week in and week out basis," Yager added.
"US retailers have recognised the advantages of stocking Peruvian asparagus on their shelves," Lleras continued. "This has resulted in maintaining steady per capita consumption levels. PAIA importers will continue to work with their customers in an effort to strategically promote this exceptional vegetable and ensure asparagus maintains its leadership role among top vegetables."
According to the Plan, asparagus has been named the number two item that US consumers have said they've purchased in the last year.
"Asparagus is still a staple for US households," reported Gary Meadows, Progressive Produce and PAIA West Coast Co-Chair. "However, we also still see so much potential for increasing consumption – not only in adding new households as consumers but also in increasing the per capita amount of those already consuming asparagus. We encourage all our retail partners to explore ways they can help increase asparagus consumption by promotions, cross merchandising and expanded displays."
The 2015/2016 Category Management Plan Outline for fresh Peruvian asparagus specifically includes statistics relating to market summaries, trends, nutritional facts, consumer positioning, fresh asparagus consumption key demographics, category and merchandising goals.
"The outline equips retailers and industry with the type of information needed to sell more Peruvian asparagus," added Lleras. "This is our goal - to inform and promote the trade and offer retail marketing strategies."