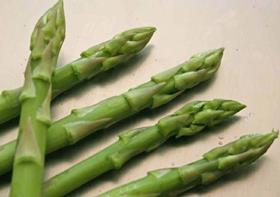 The Peruvian Asparagus Importers Association (PAIA) anticipates increased consumption and demand for fresh asparagus in 2010/11 after identifying several areas of activity designed to advance the trade in the US.

"The association will focus even greater efforts in 2010/11 on spreading the positive word to trade press, supermarkets and consumers concerning the nutritional benefits of fresh asparagus through articles, advertisements, direct-communication, and trade show participation," said PAIA coordinator Priscilla Lleras in a press release.

"In 2010, first and foremost PAIA aims to enhance industry focus for increasing the consumption of fresh asparagus in the US," Ms Lleras explained. "Secondly, we plan to continue the coordination and production of reports such as the Peruvian Asparagus Category Management Plan Outline, which identifies market growth and trends, industry facts, as well as information that will aid retailers in the marketing and promotion for Peruvian Asparagus." ??The importers associated with PAIA are working diligently with growers and producers in Peru to continue to bring quality asparagus to the US retailers' market shelves and the food service industry, according to East Coast co-chairman John-Campbell Barmmer.

"It is our commitment to the trade to focus on quality, production and nutrition," said Campbell Barmmer, who is also director of marketing at Chestnut Hill Farms. "We focus on these goals with the understanding that we are equipping US households with a delicious and nutritious meal solution."?
Consumer trends indicate that more and more Americans are eating their meals at home, according to Chris Martin, president of Gourmet Trading and PAIA West Coast co-chairman.
?"As an asparagus industry, we are partnering with retailers by providing additional ideas for merchandising outside the box – I.E. cross merchandising suggestions and creating diverse and attractive display shelves spotlighting Peruvian asparagus," explained Mr Martin.?
In the meantime, PAIA said it will focus on maintaining the flow of information within the industry, collaborating with agencies on techniques, systems and approaches which affect the entire logistics chain and ultimately assist and equip the industry to sell more Peruvian asparagus.

Chairmen seats for the 2010-2012 term comprise John-Campbell Barmmer of Chestnut Hill Farms, Miami, Florida, who has been appointed East Coast co-chairman, and newly elected West Coast co-chairman Chris Martin of Gourmet Trading, based in Los Angeles, California.?