Group brings new generation of sustainable and trackable pallets to the UK and Europe
Pallet Earth has said that it is challenging the world's traditional supply chain infrastructure and use of wooden pallets with its new generation of sustainable and trackable pallets.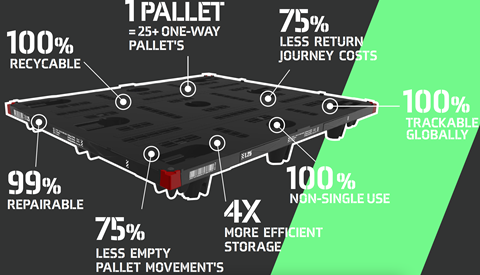 The group's pallets are made from fully recycled and recyclable plastic with a robust inner steel frame, while all products are 100 per cent ISPM15 compliant.
It pointed out that in the wake of the pandemic, fruit and vegetable producers were facing new challenges such as sharp increases in fuel costs, seafreight rates and a range of sustainability issues.
"Our pallets deliver two significant advantages – reducing carbon footprint by up to 60 per cent and reducing global supply chain costs by up to 50 per cent," said Dave Cashmore, Pallet Earth GM.
"There really is a smarter way to do things, with our pallets providing corporations circularly economical, yet sustainable, supply chain solutions to drive down costs, consumption and carbon."
Carl McInerney, UK and Europe sales director at Pallet Earth, said the company's range was a "game changer" for those importing and exporting into and out of the UK.
"Our pallets can provide peace of mind that products are fully complaint with new Brexit phytosanitary requirements, removing the need for heat treatment or worrying about mould impacting quality," he explained.
"Using European based manufacturing, and with warehouses close to market, Pallet Earth is ready to support the import and export markets of Europe and the UK ensuring both compliance and smooth servicing for our clients."
According to Pallet Earth, the nesting of the pallets allows for economical return to point of origin reduced return legs to a quarter of the cost of polled pallets, while also reducing C02e by 8kg per pallet.
"And they are fully trackable, with built in tracking allowing full visibility of products throughout the entire transport system, a particular benefit for fresh and frozen produce that requires specific cool chain measurements to be met, ensuring produce is at its best possible quality on arrival," McInerney outlined.
"With an increase in extreme weather events impacting growing seasons, eliminating waste and protecting the quality of the product is an important benefit, supporting the production of less product for the same return."