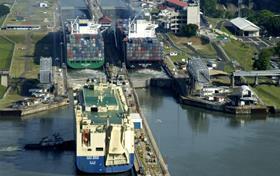 Fiscal 2011 has proved to be a record breaking year for the key commerce waterway at the Panama Canal, reaching a new milestone for tonnage handled.
The Panama Canal Authority (ACP) revealed that the port hit a record 322.1m Panama Canal tonnes (PC/UMS) through the 12-month period, which ended on 30 September this year, up 7 per cent year-on-year from 300.8m tonnes, and above the 2007 record of 312.9m tonnes.
'This is an unprecedented achievement during the 97 years of Canal operations which proves once again the capability of Panamanians to operate and manage this important waterway for world commerce,' said ACP administrator and chief executive Alberto Alemán Zubieta.
'My recognition and gratitude got to the Panama Canal employees for reaching this important goal,' he added.
According to Zubieta, the milestone proves that 'the Canal's corporate management model has made it possible to continuously improve the level of service we provide our clients while at the same time increasing benefits to Panama'.