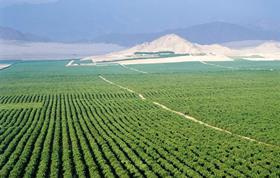 The value of Peruvian agri-exports topped US$9bn in 2021, an increase of 15.8 per cent compared to the previous year.
The figures, from the Ministry of Agricultural Development and Irrigation (Midagri), show that fruit exports rose 15 per cent to finish the year on US$4.5bn.
Blueberries, table grapes and avocados led the charge, surpassing US$1bn in sales last year.
Speaking to El Peruano, Christian Garay, director of statistics at Midagri, said: "Agri-exports were one of the key engines of the Peruvian economy in 2021.
"Certain products consolidated their presence on international markets, while the regional diversification of exports continued…with producers from other regions joining the agri-export boom."
Garay said blueberry exports are believed to have once again topped the US$1bn mark, making Peru the world's leading exporter of this fruit. In 2020 the country exported US$1.403bn of blueberries to markets worldwide. Grape and Hass avocado shipments also exceeded US$1bn.
Garay highlighted other agricultural products that continue to be in demand in the international market, such as asparagus, coffee and mangoes, as well as less established products that are arousing greater interest such as strawberries and ginger.