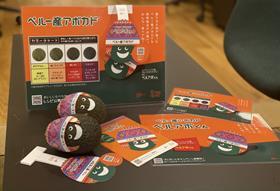 'Peruavo-kun' is the new-image character that will be at the forefront of PromPeru's avocado promotions in Japan.
Wearing a Chullo, a traditional Peruvian knit hat, Peruavo-kun will feature in PromPeru's Instagram campaigns and in-store promotions in the Japanese market, with the goal to increase export volumes of avocados from Peru.
The branding activity is new territory for Peru, the second largest exporter of avocados in the world.
"Avocados from Peru have been known as a summer [option], and I am proud of introducing our avocados to the Japanese consumer," said Fernando Albareda, commercial counsellor for OCEX/PromPeru.
"In Peru, there are many superfoods, such as quinoa, maca, camu camu and more. This includes avocado, which contains more than 20 vitamins and minerals.
"We have been promoting these superfoods and want to use a symbolic Peruvian character for the avocados to increase awareness in the Japan market."
Among PromPeru's promotional activities include the distribution of Peruavo-kun stickers, as well as the introduction of Peruvian and Japanese recipe inspiration and the implementation of giveaway campaigns on the official Peruavo-kun Instagram account.
The campaign will be active through August, with 100 Instagram users able to win Peruvian knit hats by following competition rules.