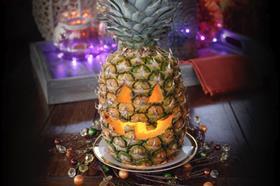 In the face of a possible pumpkin shortage and soaring pumpkin prices in the US, Dole is encouraging Halloween revellers to carve a pineapple instead this year.
The pineapple and fresh produce leader is stepping-up this year's annual Pineapple-O'-Lantern initiative – originally created to promote the nutrition and convenience benefits of pineapples – to help Halloween lovers without a pumpkin to carve.
In addition to promoting a special recipe, Dole is also offering free, downloadable pineapple Jack-O'-Lantern carving templates on its website to make the process as fun, safe and easy as possible.
"For years we've been encouraging fruit-loving families to try something new by carving a pineapple at Halloween and are now expanding our efforts in light of any possible pumpkin scarcity," said Melanie Marcus, Dole's nutrition and health communications manager. "Of course, pineapples have an important nutritional profile and are so much easier to prepare and enjoy than pumpkins since you don't have to cook them."
According to Marcus, the fruit is low in fat and sodium and high in vitamin C and antioxidants, making it the perfect sweet treat after a night of trick-or-treating.