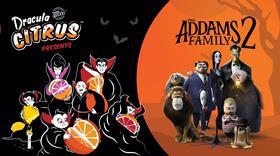 Pinnacle Fresh and Metro Goldwyn Mayer (MGM) have joined forces to promote the studio's upcoming animated film, The Addams Family 2.
Beginning in September, US and Australian consumers of Pinnacle Fresh's Dracula brands will be invited to enter sweepstakes, with the major prize an all-expenses paid family vacation to New York City in the US and the Gold Coast in Australia.
The product is available across a number of specific retailers in the US, and exclusive to Aldi in Australia. Consumers can enter the competition through scanning a unique QR code. The collaboration between the two includes on-pack and website activations.
Daniel Newport, Pinnacle Fresh marketing manager, said the Dracula citrus brand is gaining momentum in both Australia and export markets.
'The US is still our biggest market,' said Newport. 'Dracula Citrus can now be found in Australia, the US, Canada, New Zealand and smaller volumes throughout Asia and Europe.
'Pinnacle Fresh are fortunate to join with MGM to promote our wickedly healthy brand with their creepy and cooky The Addams Family 2 movie coming up later this year. This collaboration is proof the company's Dracula citrus range continues to go from strength-to-strength, and we look forward to seeing fun and engaging movie displays at retail stores leading into Halloween,' Newport told Produce Plus.
The Citrus range for this promotion will include Dracula Baby Mandarins, Dracula Pink Cara Cara, Dracula Navel Oranges and Dracula Blood Oranges. The special promotion will kick-off during the second week of September and run through October.